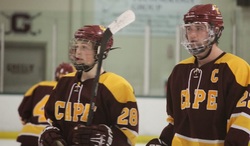 The 2014-2015 Cape Elizabeth hockey season is only a few days old, but there is already boundless optimism sweeping through the Capers camp.

The most competitive training camp in years left varsity coach Matt Buotte with difficult decisions to make throughout the depth chart. The team will ice 27 skaters and 3 goaltenders for the upcoming season, all of whom figure to play a part as Cape Elizabeth sets out to build on it's 2013-2014 season, one which saw the Capers fall to Greely for the second consecutive year in postseason play.

A strong group of returning seniors have already begun exhibiting excellent leadership. A strong junior class will mix with an infusion of youth, with a total of 19 underclassmen. The Capers are young but cannot be confused for inexperienced; of their 15 returning sophomores, 11 have already skated in at least one varsity game.

With the final rosters taking shape, the teams will now turn their attention to the first pre-season matches of the year. The junior varsity team will play host to Gray New Gloucester/Poland on December 2nd at 7:15 p.m. at the Cross Insurance Arena. It will be fans first look at the Capers six incoming freshmen and JV's first true home game in almost two years.

The varsity team will be in action the following night away to Hebron Academy's Varsity B squad. The game figures to be a stern pre-season test for the Capers, who are looking to raise the bar in 2015. The Capers have taken on a challenging cross-over schedule, taking on 4 of the top 5 finishers from last season's Class A West standings--Falmouth, Scarborough, Biddeford and Cheverus.

Cape Elizabeth's varsity team will open the regular season on December 6th at home against Gardiner. Puck drop is at 6:10 p.m.