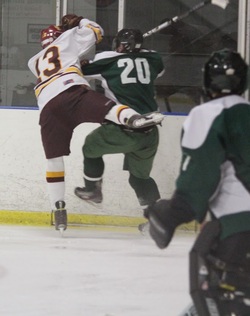 In what was the only run-out for the Cape Elizabeth varsity team before their regular season opener this weekend, the Capers took to the road to take on Hebron Academy's Varsity B team at Robinson Arena in Hebron on Wednesday.

The game figured to be a stern test for the Capers, who are looking to get off to a fast start after beginning the 2013-2014 campaign at 0-5-1. Hebron's Varsity B fared well against Maine high school teams last term, beating state champion Falmouth and East finalists St. Dom's twice.

Hebron got off to a fast start as the Capers found their legs, testing starting goalie Ross Leblond early and often. The Capers held the fort well, with the best chances in the first period coming from a Jack Drinan breakaway and Curtis Guimond attempt in close. The Capers escaped the first period at 0-0, despite being outshot 8-2.

The tides turned in the second period as the Capers came out firing. The Capers top three lines put heavy pressure on a young Hebron defense, outshooting the Lumberjacks 16-9 in the frame. Cape would draw first blood when Ben Shea continued his torrid goal scoring pace, finding the top corner from the slot and giving his side the lead at 1-0. Peyton Weatherbie would add the lone assist on the goal.

The hosts would level the score at 1 with just 3.6 seconds remaining in the second period when Todd Williams would fire home Mitch Spurr's feed past freshman goaltender Peter Haber. Spurr found Williams in the high slot, who one-timed the shot home to tie the game and give the Lumberjacks a much-needed boost. Haber would turn aside 8 of the 9 shots he faced in his first varsity outing.

Hebron would take the lead early in the third period, when Cohen MacPherson's shot from the point saw it's way through a sea of legs and past goaltender Grant Rusk, the third Capers goalie of the evening. The Lumberjacks would finish the job at the midway point of the third after Peyton Weatherbie and Guimond took simultaneous high-sticking and tripping penalties respectively. The Capers almost killed the entire 5-on-3, but with :13 remaining in the penalties Matt Cerretani finished off a goal-mouth scramble to give Hebron a 3-1 lead they would not relinquish. Danny Lassman turned as 23 of the 24 shots he faced for Hebron Varsity B.

Rusk stopped 12 of 14 shots in the third period. The Capers went 0-for-3 on the power play in the loss, registering a single shot with the man advantage. It was an encouraging pre-season performance from the Capers, who looked sharp and controlled long stretches of the game. They will be looking to bounce back on Saturday, December 6th at 6:10 p.m. as they host Gardiner (0-0-0) at Portland Ice Arena.